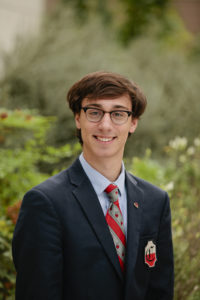 What is the most influential book you have read besides the Bible? Why?
Silence by Shusaku Endo was the most influential book because it gave me a unique and very gritty perspective on Christianity and its impact that few other books/movies/etc. can really explore. It was also exceptionally well written and engrossing.
What is your favorite or funniest moment at Geneva?
My funniest memory was during one basketball game when we played in Marble Falls and won 44-2. It was full of hilarious moments. It got so bad that I was actually crying from laughter while running down the court. Most of the laughs were because of Mason Janse and the seniors in the stands were yelling "My glasses!" which became a running gag.
What will you miss most when you leave Geneva?
I will miss the people. I've made such good friends, even very recently, at this school and I wish I could have spent more time with all of them.
Who has influenced you most while at Geneva? How?
Mr. Shelton has probably influenced me the most. The way he expresses his arguments and rationally goes through very important issues has played a huge part in shaping the way I look at these issues.
What does being a Geneva student mean to you?
Being a Geneva student means that I get to experience schooling in a unique environment surrounded by people who share similar core values and a love for Christ.
How would you encourage a Geneva kindergartner to persevere in school?
I would tell them not to follow my example.
If you could change anything at Geneva, what would it be?
Please put my locker inside please, or at least put a little awning over it. I know I'm a senior now and it won't be that big of an issue for me now, but still.