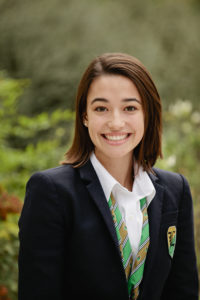 What is the most influential book you have read besides the Bible? Why?
This is such a hard question… wow. The most influential book I have read is probably either Mere Christianity or Between Shades of Gray. The words of C.S. Lewis in Mere Christianity presented new thoughts and analogies to me and challenged me to think about my faith differently. Even though I read it almost a year ago, several of his ideas have made their permanent mark on me. Between Shades of Gray is a historical fiction novel that follows a 15-year-old Lithuanian girl during the Holocaust who is taken from her home along with her family and sent to work at an isolated labor camp in the Arctic Circle. I first read this novel when I was in the seventh grade and have re-read it multiple times since then. This raw and heavy book opened my eyes to the unjust tragedies during WWII and sparked my love for historical fiction.
What is your favorite or funniest moment at Geneva?
It's impossible to pick one, but my favorite memories are the ones from the old Grammar School playground. From Mt. Geneva to kickball to the old oak trees, I look back and laugh at all of the crazy games and adventures that we came up with.
What will you miss most when you leave Geneva?
I will miss walking down the boardwalk and laughing with this class of friends who I have spent the last 13 years with. They have helped shaped me into the person I am today and I wouldn't trade the memories we've made for anything. I will definitely miss having such a small and supportive community of teachers, friends and families which is almost unheard of anywhere else. Also, the little things that seem so routine and ordinary like praying at the beginning of class and having discussions from a biblical worldview are some of the things I know I will miss the most once I leave.
Who has influenced you most while at Geneva? How?
There have been so many influential people in my life at Geneva over the years that it's hard to pick just one. However, from being my Young Life leader to leading weekly Bible studies, Mrs. Davis' influence on my life has moved beyond just being my freshman geometry teacher. She loves well and is quick to encourage. I am so grateful for the time she put into knowing and caring for me. Another influence in my life has been Mr. Southwick. Despite his constant teasing on and off the basketball court, he always went out of his way to encourage me when he could tell I needed it (even if I didn't want to admit it). He showed confidence in my abilities and challenged me to push myself in all things. He is one of the smartest people I know and I will always respect his pursuit of knowledge and appreciate his belief in me.
What does being a Geneva student mean to you?
To me, being a Geneva student means being equipped to defend my faith and recognize truth in the midst of chaos. It means using the gifts that God has given me to pursue truth and portray Christ in everything I create, do and say, no matter the circumstance.
How would you encourage a Geneva kindergartner to persevere in school?
I would encourage Geneva kindergartners to dig in and give everything their best, no matter if they're working on their third grade Greek and goddess project or their Senior Thesis. In the end, all that matters is looking back and knowing you applied yourself in everything you did. And if that doesn't work, I would tell them to reach out to the community of Geneva teachers around them who genuinely care and want to see them succeed.
If you could change anything at Geneva, what would it be?
If I could change anything at Geneva I would definitely add a Rhetoric School library to campus. I have so many memories of looking forward every week to going to the Grammar School Library to read and check out books with my friends. Even though it was small, it was so special to me and I definitely want future Rhetoric School students to have that resource available to them.