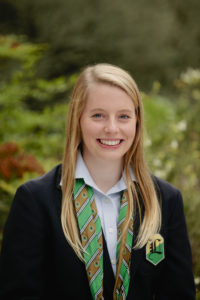 What is the most influential book you have read besides the Bible? Why?
The Purple Pig and other Miracles by Dick Eastman was most influential. This book rocked my world and gave me so much hope. It inspired me to live wholeheartedly and give God everything. I was most impacted by the accounts of extreme sacrifice of college students who were willing to lay all they had on the altar before God in obedience.
What is your favorite or funniest moment at Geneva?
My favorite moment at Geneva was probably in tenth-grade when Mr. Southwick took us to the grass outside the Lyceum to read as a class, or when we played kickball on the field in 8th grade and 9th grade.
What will you miss most when you leave Geneva?
I will miss the beautiful outdoor campus, the intentionality of the teachers, and how cheerful and Christ-centered Art is at Geneva! Thanks, Mrs. Lester!!
Who has influenced you most while at Geneva? How? 
Mr. Vis has influenced me most because he is willing to stop whatever he is doing to talk about Jesus and his eyes fill with such excitement.
What does being a Geneva student mean to you? 
It means relaxing in the midst of a challenge and following through when you still have a long way to go.
How would you encourage a Geneva kindergartner to persevere in school?
Be yourself and have fun. Go outside and play. Hug your parents and build strong relationships with your family. God is your helper. Pursue Him with all your heart. School is an opportunity, enjoy it. Complaining steals joy and ruins your perspective.
If you could change anything at Geneva, what would it be?
I would create a game of the week structured into to the school day. Maybe there could even be a game council who plans the game each week. The games would be mild so everyone could participate and have fun. Also, if the teachers competed it would be super cool.