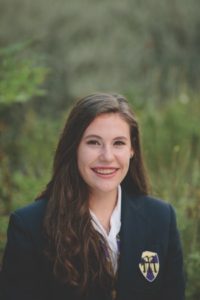 What's the most influential book you have read besides the Bible? Why?
It's hard to choose just one book that I have read and say it has been the most influential. All of the books that I have read over the years and especially the books that have been assigned reading have led me to think about things differently or explore other viewpoint on things. Yet, I would have to say that the most influential book that I have read recently would be Silence. It brought up some really interesting discussions in and out of the classroom and led me to honestly question the strength of my faith just like the characters in the book.
What is your favorite or funniest moment at Geneva?
My funniest moment at Geneva would probably be when I was in fourth grade and a substitute teacher tried to kill a wasp with a broom. We had all been evacuated out of the classroom and were sitting on the boardwalk when we heard the crash. She had hit the window where the wasp was sitting and broke it. Soon after, Mr. McMurry came to the rescue as always and sealed up the hole where the window once was. I think this was on April Fool's Day and… the wasp survived.
What will you miss the most when you leave Geneva?
I will definitely miss the community that Geneva brings and the family like atmosphere. After being here for 13 years it feels like I will be leaving my second home. I love the fellowship that is within the school and I will miss the unique and caring relationships that teachers have with the students.
Who has influenced you most while at Geneva? How?
This is a very difficult question. After 13 years, so many people have influenced me in so many ways. That being said, I spent seven of these 13 years learning from Ms. Zaccagni. She has taught me so much both musically and spiritually. She has helped me grow my love for music and has never accepted anything but the best from all her students. From her memorable quotes and stories to her emotional explanations of scripture-based texts, she has been a strong role model for me throughout my years at Geneva. I am confident to say that I wouldn't be where I am today without having her as a mentor over the years.
What does being a Geneva student mean to you?
It means that I will always try my best in all I do and do it for the glory of God. I will always strive to learn more and discern what is true amidst the lies of the world.
How would you encourage a Geneva kindergartner?
Just do your best! In the big scheme of things, school is not something to stress out about, especially not in Grammar or Logic school. Use that time to determine your strengths and weaknesses and the things you like and don't like, don't put pressure on yourself. Enjoy learning and don't let assignments and pressure of grades get in the way. (That being said, do your best and use what you know in Rhetoric school because that's when grades do begin to matter. But, that time will come soon enough.)
If you could change anything at Geneva what would it be?
I wish that the new Grammar School would still have boardwalks and that there would be a large all-school library.