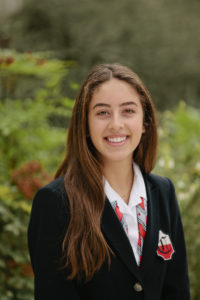 What was the most influential book you read besides the Bible and why?
The most influential book I read was 81 Days Below Zero because it showed me how difficult life can be when you have to build everything on your own in an extreme situation.
What is your funniest or favorite memory at Geneva?
My funniest moment was when I pushed Callen Vaught down the Logic School staircase.
What will you miss most when you leave Geneva?
I will miss the parking lot and my good spot.
Who has influenced you most while at Geneva? How?
Mrs. Jeffcoat has influenced me most because she is the most genuine teacher I have ever had and I feel as if she is an amazing person to go to for advice.
What does being a Geneva student mean to you?
Being a Geneva student means that doing the minimum is only the minimum.
How would you encourage a Geneva kindergartner to persevere in school?
I would say that senior year off periods are the best, so look forward to that and do your best.
If you could change anything at Geneva, what would it be?
I would like a better variety of electives at Geneva.