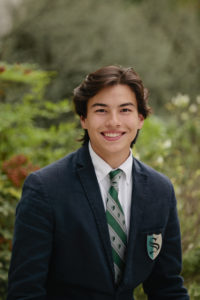 What is the most influential book you have read besides the Bible? Why?
My favorite book was Silence by Shusaku Endo which I read in Mr. Shelton's class. It was a nice change-up from the books we read at Geneva because it was a slower-paced book and the story was very intriguing.
What is your favorite or funniest moment at Geneva?
My favorite moment at Geneva was when Reagan Mowery drop-kicked Aidan Hamilton off a picnic table.
What will you miss most about Geneva?
I will miss the accepting environment at Geneva and the people most of all.
Who has influenced you most at Geneva? How?
My friends have influenced me the most since I've been at Geneva. They have taught me what true friendship is.
What does being a Geneva student mean to you?
It's a perfect combination of friendship, God and education.
How would you encourage a Geneva kindergartner to persevere in school?
It only gets better—no more Nail Trail!
If you could change anything at Geneva, what would it be?
I would suggest that we bring P.E. back in high school!