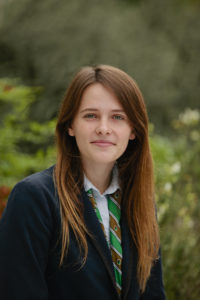 What was the most influential book you read besides the Bible and why?
The Chronicles of Narnia were probably my most influential books, especially reading it at a young age. They gave me a deeper understanding of who God is. Before that point, I had never understood how terrifying yet whole heartedly loving a person could be. It allowed me to understand His sacrificial love in a way I had never known before.
What is your funniest or favorite memory at Geneva?
I have a lot of good memories of it pouring rain on campus and everyone being frazzled trying to keep their things dry.
What will you miss most when you leave Geneva?
I will definitely miss the faculty. Having their support, love and guidance will be hard to leave behind.
Who has influenced you most while at Geneva? How?
Mr. Southwick (RIP) always saw something in me I had never seen in myself before. As a kid who always struggled in school, he always poured his time into me. I had never had a teacher make me feel that what I had to say was important.
What does being a Geneva student mean to you?
Being a Geneva student to me means being a part of something greater than myself, being a part of a community that shapes you and teaches you how to discover truth.
How would you encourage a Geneva kindergartner to persevere in school?
I would say that it's alright not to be good at things. It's not about succeeding, it's about much more than that.
School is more about growing and always putting your best foot forward.
If you could change anything at Geneva, what would it be?
I would build a library and a greenhouse-maybe a green library.