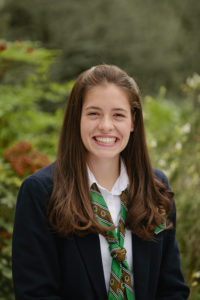 What is the most influential book you have read besides the Bible? Why?
I have to say Not A Fan by Kyle Idleman was most influential. It helped me realize the vast difference from just appreciating the gift of Jesus to actually walking a life of wholehearted surrender.
What is your favorite or funniest moment at Geneva?
Last year during homecoming, right around half-time, Alyssa, a friend, and I walked to the gym. On the way back, we took the wrong path and almost got nailed by the tunnel of players running back to the locker room. Just in time we ran behind an old portable overcome with laughter!
What will you miss most when you leave Geneva?
I will miss the wooden boardwalk, giant trees, and smiling teachers holding their doors open!  
Who has influenced you most while at Geneva? How? 
Mrs. Greenlees! She always encourages me to persevere in the hard things and keep a good attitude until it "clicks." Her consistency and love for her students has amazed me and I hope to be a teacher like her one day!  
What does being a Geneva student mean to you? 
It means being excited about challenging assignments and walking in integrity and honor with your teachers and classmates.
How would you encourage a Geneva kindergartner to persevere in school?
Make learning fun and smile! Whether a course comes easily or is hard, give it your very best and never give up. Perseverance is the secret to great success!  
If you could change anything at Geneva, what would it be?
I would add a "Business Principles" class exploring different avenues within Business to prepare students considering this as a career.