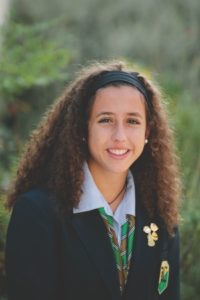 What is the most influential book you have read besides the Bible? Why?
The book is called The Reason I Jump and is written by a young boy who has Autism. It helped me have a better understanding of my brother, who also has Autism.
What is your favorite or funniest moment at Geneva?
The day that Mr. Shelton announced that Parker Uniforms went out of business made me laugh really hard. I have no idea why I thought it was so funny.
What will you miss most when you leave Geneva?
I would say Mr. Southwick, but he's already gone.
Who has influenced you most while at Geneva? How?
Mrs. Greenlees has been a great influence because she always pushed me to do my best in math even when I usually have a hard time understanding it. She also made it a priority to make sure that everyone in class understood the concepts she taught, even if she needed to use different teaching methods for different people. Because of her innovative teaching and motivating attitude, I got the best grades I have had in math in years!!
What does being a Geneva student mean to you?
Geneva has prepped me with the worldview tools I need, which will help me shape how I view the world. I have a desire to go explore the big world we live in and I believe that with these acquired skills I can do that in addition to being a light to others.
How would you encourage a Geneva kindergartner to persevere in school?
I would tell her to listen well! School is so much more enriching when you listen, even if the class seems really boring.
If you could change anything at Geneva, what would it be?
If I could add anything to Geneva, I would add more language options.