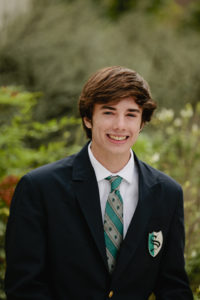 What was the most influential book you read besides the Bible and why?
The most influential book I have read besides the Bible is Silence by Shusaku Endo. Silence really showed how blessed we are in the United States and especially at Geneva to be able to freely practice our faith not only in private, but also in public.
What is your funniest or favorite memory at Geneva?
My personal favorite moment at Geneva was our first home 11-man football game on our campus. That game was truly unforgettable. There was something special about playing on your own field in front of an amazing home crowd.
What will you miss most when you leave Geneva?
The thing I will miss the most when I leave Geneva is the sense of community. Everyone on the campus is friendly and inviting, which is something I will most likely not experience in college. Geneva is a place where the teachers actually invest themselves in you not only as a student, but also as a person.
Who has influenced you most while at Geneva? How?
Two people came to my mind as being the most influential while I've been at Geneva. Both Coaches Wright have encouraged me to become the best man possible and to try my hardest in everything I do.
What does being a Geneva student mean to you?
I believe that a Geneva student is one who is very well rounded. At Geneva we are encouraged to participate in not only a broad range of academic studies, but also athletics and fine arts. It is truly a blessing to really be able to do everything here.
How would you encourage a Geneva kindergartner to persevere in school?
I would encourage a Geneva kindergartner to set goals for themselves for what they would like to accomplish. One of the goals I would encourage daily is to find a way to enjoy school each and every day.
If you could change anything at Geneva, what would it be?
There is nothing fundamental I would like to change about Geneva, but it would be nice to have a turf athletic field so we don't have to practice on the baseball fields.