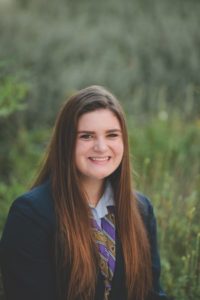 What is the most influential book you have read besides the Bible? Why?
The most influential book I have red besides the Bible has to be Silence. This book really showed me that God's love is unconditional and to hold onto my faith even when it feels like my whole world is crumbling.
What is your favorite or funniest moment at Geneva?
One time I broke my foot while walking and texting in the gym parking lot. Coach Wright had to carry me to my car… across the parking lot. It was a very good time.
What will you miss most when you leave Geneva?
I will miss the unique bond that forms between the faculty and student body throughout high school.
Who has influenced you most while at Geneva, How?
Mrs. Greenlees has influenced me the most. Whether it be through helping me with math homework during study halls, or giving me motivation to do my best in math, she has taught me the necessity of perseverance.
What does being a Geneva student mean to you?
Being a Geneva student means understanding the importance of connection with your peers, it means knowing the teachers so well that you have more of familial bond with them and it means having another place to call home.
How would you encourage a Geneva kindergartner?
I would tell them, "It gets better."
If you could change anything at Geneva, what would it be?
I wish that we would be allowed to use our phones during lunch, or study halls to help us with our homework.