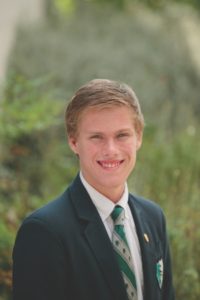 What is the most influential book you have read besides the Bible? Why?
The most influential book I have read is The Consolation of Philosophy. You read it the summer of your sophomore year. And I always knew that you can't find happiness in world possessions, but this book logically took me through the why.
What is your favorite or funniest moment at Geneva?
My favorite moment was in a Mrs. Greenlees' study hall when Scott, Grant and I were making popcorn and we had some kernels left over. Grant had the brilliant idea of stapling the opening closed and putting it back in the microwave and turning it on. After about 10 seconds, Amber tells us that it is going to light on fire and we laugh and say "yeah, right." As it bursts into flames, suffice it to say that Mrs. Greenlees didn't let us make popcorn anymore.
What will you miss most when you leave Geneva?
I am going to miss the community of Geneva. Everybody knows everybody and we are all friends.
Who has influenced you most while at Geneva, How?
My parents have influenced me the most by showing their perseverance and determination to keep working. They will continue to influence me all throughout my life.
What does being a Geneva student mean to you?
A Geneva student is held to a higher standard. People at public school are forced to be there by the state, people at Geneva want to be there, so it allows for a higher level of learning.
How would you encourage a Geneva kindergartner?
I would tell a kindergartner to enjoy nap time now. I took nap time for granted. But also that time really flies fast, one second I was in kindergarten and now I am a senior. So enjoy elementary school while you can.
If you could change anything at Geneva, what would it be?
I would let juniors leave for lunch. That would have been nice.