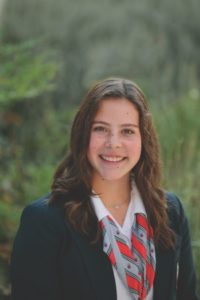 What is the most influential book you have read besides the Bible? Why?
The most influential book I have read would have to be Silence because it was over a deep discussion/argument that actually happened: Christians being persecuted for their faith. It made me think about the decisions I would have made if I were put in that situation.
What is your favorite or funniest moment at Geneva?
My funniest moment while at Geneva is definitely in eleventh grade when we went to Europe and we talked to some Italian strangers and we all got a "stern" talking to.
What will you miss most when you leave Geneva?
I will miss the relationships with my teachers the most because not only can you talk to them about academics, but also your faith and hardships in your life.
Who has influenced you most while at Geneva, How?
Mrs. Davis has influenced me the most while at Geneva because she has been a mentor, a friend, a mom and someone who I can count on for everything.
What does being a Geneva student mean to you?
To me, being a Geneva student means someone who works hard and diligently but also has a ton of fun with great friends.
How would you encourage a Geneva kindergartner?
I would tell a Geneva kindergartner to have as much fun as you can because time flies and you may not know it now, but you are going to miss everything about this special place.
If you could change anything at Geneva, what would it be?
If I could change anything at Geneva, it would be to have a shadier parking lot so our cars aren't so hot at the end of the day.