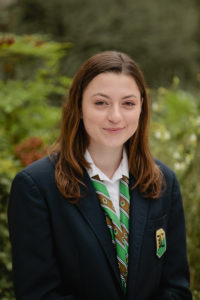 What was the most influential book you read besides the Bible and why?
If You Find this Letter by Hannah Brencher has been the most influential book I have read. The book motivated me to have an intentional love for others through letters! It taught me to use my thoughts in an active way to shine positivity in the world and to show love every day.
What is your funniest or favorite memory at Geneva?
My funniest memory at Geneva was when my friend pushed me down the boardwalk stairs, and then told me that I flopped like a fish.
What will you miss most when you leave Geneva?
The thing I will miss most about Geneva is its strong community. Not only do the teachers show genuine kindness to the students, but the students have also learned to do the same.
Who has influenced you most while at Geneva? How?
Mrs. Catherine Davis has influenced me the most at Geneva. Mrs. Davis is the most genuine, God-loving, kind and funny person I know. I aspire to be her!
What does being a Geneva student mean to you?
Being at Geneva has taught me to love others no matter what and to always support them.
How would you encourage a Geneva kindergartner to persevere in school?
I would tell a kindergartner to always keep trying. Whether they struggle with grades, friends or life in general, never stop trying and always show love.
If you could change anything at Geneva, what would it be? 
If I could change anything at Geneva, it would be the MPB. If you are a photographer, then you know why.