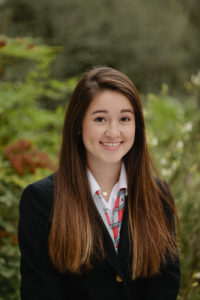 What was the most influential book you read besides the Bible and why?
The most influential book I have read is Unbroken by Laura Hillenbrand. It was such an inspiring story of perseverance and I love how it portrays the strength of the human spirit.
What is your funniest or favorite memory at Geneva?
My funniest moment at Geneva was track practice my freshman year when I threw up in front of all the cute senior guys.
What will you miss most when you leave Geneva?
I will definitely miss the community most. I have met so many great people and I will be so sad to leave them.
Who has influenced you most while at Geneva? How?
Mr. Southwick was the most influential teacher for me at Geneva because he always made class fun and his positive attitude was really contagious.
What does being a Geneva student mean to you?
Being a Geneva student means that you are held to a higher standard than at most schools. A lot is expected of you, but there are great people here who come along side you to help you be the best version of yourself.
How would you encourage a Geneva kindergartner to persevere in school?
I would say to really try to get the most out of it because school can get hard along the way, but when you put in the effort it is so worth it in the end.
If you could change anything at Geneva, what would it be?
I was not here in Grammar School, but I have heard that they do not have homework assigned on Fridays, so I think we should bring that to Rhetoric school.