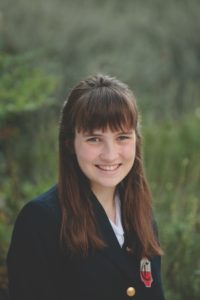 What is the most influential book you have read besides the Bible? Why?
My most influential book I ever read is Live Original by Sadie Robertson, because it is a book about living as a Christian teen with the stresses of school and life in general but also how to deal with the prosecution that we will eventually face. It also teaches some great leadership skills!
What is your favorite or funniest moment at Geneva?
My favorite moment is probably when I cheered my last pep rally came out to my truck and my parents had completely decorated it with paint that said "Drum Major" and balloons inside with cake. My funniest is any of the band trip memories where the football players would always try and get a group together to go run at zero dark thirty, go for five minute swims before curfew. Oh, and when I mid-landed a tumbling pass and slid across the mat on my bottom… that was lovely.
What will you miss most when you leave Geneva?
I will miss everything band, especially the family I've found in it. No matter what kind of day I am having I can go into the band room, talk to Mrs. Evans, Ms. Thomas, Mrs. MacDonald or any of my band friends and I will immediately feel better. I truly found my happy place.
Who has influenced you the most at Geneva?
Student-wise, Brendan Fessler was the most influential all four years; he really was there for everything and helped me become not only a better musician but a better person. Faculty-wise it was my second mom, Mrs. Evans. I remember during a really tough time when I didn't want to eat and I wasn't sleeping she'd tell me "Eat. Sleep. Repeat." and always check on me. She also taught me a lot about being a leader and how to play to the glory of God.
What does being a Geneva student mean to you?
Being a Geneva student means being a team player and always willing to do things for your classmates. It means forgiveness even when you don't want to and you'd rather rip their hair out and it means cherishing the time you have and learning as much as you can because you will never live that moment again.
How would you encourage a Geneva kindergartner?
After I got done convincing the kindergartner that band was where they absolutely had to be, I would tell them to never be afraid to ask for help on campus, I know I always struggled with it and it added way too much stress to my life.
If you could change anything at Geneva, what would it be?
I would change Geneva so that band got more time together, the arts are really important and the bonds you make in the band room are lifelong. I would also make a band booster club and more fundraising opportunities so that we could finally go on those band trips and compete more! (I'm such a band nerd…)