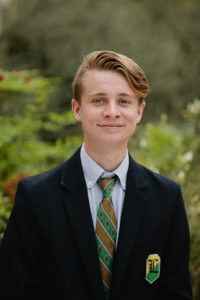 What was the most influential book you read besides the Bible and why?
Weapons of Mass Instruction by John Taylor Gatto. It changed the way I view our educational system and much of my own journey through the compulsory schooling world.
What is your funniest or favorite memory at Geneva?
On my first day of my sophomore year after morning basketball practice, I walked out of the Gym with my shirt fully unbuttoned but my tie tied tight and ran into some people before realizing it.
What will you miss most when you leave Geneva?
I will miss Russel Navarro.
Who has influenced you most while at Geneva? How?
Mr. Southwick influenced me the most, hands down. Every discussion with him taught me a new way to think that I hadn't thought of before.
What does being a Geneva student mean to you?
It means trying to live by the Honor Code.
How would you encourage a Geneva kindergartner to persevere in school?
I would tell a kindergartner to just keep swimming, just keep swimming.
What does being a Geneva student mean to you?
I would add more vocational types of classes or clubs (i.e. auto shop, woodworking, home economics, etc.).