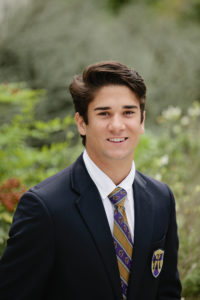 What was the most influential book you read besides the Bible and why?
The most influential book I've read is Mere Christianity by C.S. Lewis because he is an amazing author and his reasoning is very clear. He is a great example of an extremely intelligent Christian.
What is your funniest or favorite memory at Geneva?
My favorite moment at Geneva so far was watching my little brother, Christian, score a touchdown in our first scrimmage on his first run play ever playing football.
What will you miss most when you leave Geneva?
I will for sure miss football most when I leave Geneva. The team is basically my second family and being on the field with them on Friday nights is a feeling unlike anything else.
Who has influenced you most while at Geneva? How?
Honestly, my biggest influence at Geneva has been one of my best friends, Ethan Houser. He is not only an upstanding student and Christian, but he has the best work ethic I've ever been around and it inspires me to do my best not only in football, but also in the classroom.
What does being a Geneva student mean to you?
Being a Geneva student is a special thing to me. It means you are a true follower of Christ who doesn't just "pretend" to be Christian. It also means you work hard in everything you do and always be a leader and a role model because someone impressionable will always be looking up to you.
How would you encourage a Geneva kindergartner to persevere in school?
I would tell a Geneva kindergartner that they should play sports. That is not just because I love them, but because they teach so much about life and school. Learning work ethic and perseverance through numerous obstacles in athletics has helped me to keep my grades up and work hard without giving up when it gets hard.
If you could change anything at Geneva, what would it be?
If I could change one thing about Geneva, I would add a turf football field and an indoor practice facility because Texas is just too hot in August.