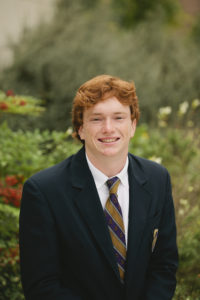 What is the most influential book you have read besides the Bible? Why?
Shoe Dog by Phil Knight influenced me the most. This book opened my eyes to what one of the most prosperous companies went through to achieve success. It also opened my eyes to how Phil Knight thought about events, obstacles and everyday life.
What is your favorite or funniest moment at Geneva?
My favorite moments would have to be riding home on the bus after an away football game.
What will you miss most when you leave Geneva?
I will miss the times spent with close friends. You never spend as much time with them as you do now.
Who has influenced you most while at Geneva? How?
The coaching staff has influenced me the most. They show you how to work hard as an individual and as a team to achieve a common goal.
What does being a Geneva student mean to you?
Being a Geneva students means being a Christian student who strives to be great in and out of the classroom.
How would you encourage a Geneva kindergartner to persevere in school?
I would just tell them that it is worth it. We have been in their shoes and they will be in ours. But the education we receive is the same. Everything you go through is worth it.
If you could change anything at Geneva, what would it be?
I would change the locked doors to the athletic facility. I know there is always the possibility of theft, but I would like for students to be able to use the facilities to better themselves.