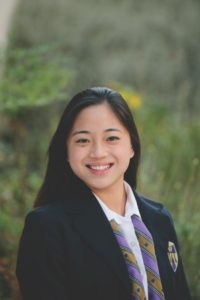 What is the most influential book you have read besides the Bible? Why?
There are probably three different books that have influenced me the most. I list three because they have all changed my worldview to some degree in different spheres of influence. Spiritually, I would have to say R.C. Sproul's Chosen by God and Silence by Shusaku Endo. Sproul's book expounds the Calvin viewpoint. As I read, I agreed with his very extreme ideas, but later on began to disagree with some points of Calvinism, which led me to take a middle ground. Endo's novel has a powerful way of displaying the sin of pride. I have taken on the more controversial view the book promotes, with certain conditions. With regards to non-spiritual things, J.R.R. Tolkien's The Lord of the Rings has fostered my love of fantasy, medieval history and pleasure reading.
What is your favorite or funniest moment at Geneva?
My favorite moment at Geneva was when I saw the State Championship Orchestra placard on display at the hotel we were staying at in Waco during TAPPS. It was wonderful to see such a great accomplishment of the Strings, Guitar and Full Orchestra. It was the first time we won.
What will you miss most when you leave Geneva?
I will miss the loving Christian and academic community. I have very strong relationships with my teachers and I know that is a rare gift.
Who has influenced you most while at Geneva, How?
There are two teachers who have influenced me the most. The first is Dr. Lloyd. His teaching style was spot-on for the way I learn. He would give minimum homework and if we wanted more practice he would offer extra assignments. He helped me hone in on the best way I learn. Also, the following summer, I went from shadowing research doctors to being their lab assistant. My duties at that internship were undergirded by my knowledge and lab skills from AP Chemistry. The second teacher is Mr. Southwick. His field of study furthered my love of Medieval History and his teaching style also fell in line with my learning style. Additionally, he trained me in taking notes because he forced the class to rely on auditory learning, which is excellent preparation for college courses. Moreover, he helped me to write better, as he edited many of my essays.
What does being a Geneva student mean to you?
Being a Geneva student means a lot. It means I have a faculty and a whole grade who loves, cares and knows about me. The close community is a warm nest and a nurturing mother, a perfect environment to grow and learn to fly. As a student at Geneva, I know I have high caliber courses and teachers who will help me strive for excellence. I also have Christian adults who will pour into my life and friends who will encourage and exhort me.
How would you encourage a Geneva kindergartner?
I would encourage kindergartners to trust God to be their strength and to trust that all will be well in the end. I would tell them to lean on their teachers and learn as much as they can from them. I would counsel that they find joy in the small things, even when days are gray. Finally, I would say to them that time passes so quickly and that they will realize it later, thus they should enjoy their younger and innocent years.
If you could change anything at Geneva, what would it be?
I would change three things. The first is the voting system. Currently, the main reason people vote for their leaders is popularity or likability. Now, I know everyone would like to deny that, but I think it is true and I have seen some examples of this problem. No amount of encouraging students to do otherwise will change this issue. Therefore, I propose that the teachers and faculty have a part to play in the decision making, as their view is more objective than that of students. The other thing I would change is more funding for the fine arts program. I appreciate sports and all the wonderful things they contribute to Geneva. However, the fine arts seems to get last. In terms of statistics, the fine arts and academics receive more points for TAPPS than sports. Therefore, maybe the school should invest more in the arts. For example, instead of funding a football stadium, we could fund a new auditorium to replace the MPB. This project would not only help the fine arts but also other school functions. The final thing I would change is requiring seniors to attend Field Day. It is always a sad thing for underclassmen to see the dwindled amount of seniors on the field.