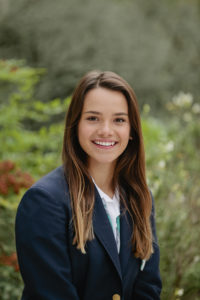 What was the most influential book you read besides the Bible and why?
I really can't choose one. It has to be between Silence and To Kill a Mockingbird. They tie in so many aspects of Christianity through different lenses.
What is your funniest or favorite memory at Geneva?
My funniest Geneva memory is when William was giving a presentation in Mr. Harrild's class and he sang the entire thing to the tune of Hello by Adele.
What will you miss most when you leave Geneva?
This may sound basic but I will miss the sense of community and how loved you feel by everyone here.
Who has influenced you most while at Geneva? How?
Mrs. Greenlees has influenced me most because she really has pushed me in ways I didn't think I could be pushed. She has recognized my weaknesses and made me overcome and work through them in a subject that is far from my favorite.
What does being a Geneva student mean to you?
Being a Geneva student means much more to me than excelling in academics. I means being a lover of learning and a lover of seeking truth in everything you do.
How would you encourage a Geneva kindergartner to persevere in school?
School doesn't get easier. But the older you get and the more you progress, the more rewarding this all becomes. Persevering in school will teach how to carry this attribute to all aspects of your life. You will learn how to create great relationships with friends that will carry you through the trials of your education. This you set you up for a much richer and greater appreciation for life.
If you could change anything at Geneva, what would it be?
I love Geneva. However, I would change the diversity of the student body. I know it is hard to find many people from different cultures and walks of life in Boerne. But I think part of a Christian school should be to try to introduce this education to all types of people.