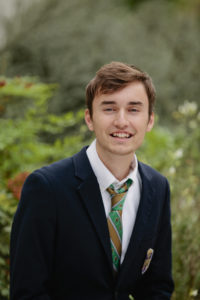 What is the most influential book you have read besides the Bible? Why?
That would definitely be Silence in junior year Worldview class. It was such a good picture of what real world apologetics looks like.
What is your favorite or funniest moment at Geneva?
My favorite memories come from any of the State tennis trips.
What will you miss most when you leave Geneva?
The community is what I'll miss for sure. It's such an enriching experience.
Who has influenced you most while at Geneva? How? 
The person who influenced me most is definitely Mr. Shelton. He has such a heart for people and is such a man of God.
What does being a Geneva student mean to you? 
Being a Geneva student means having character and being able to express to others what my faith means and is.
How would you encourage a Geneva kindergartner to persevere in school?
I would say just get ready. It gets a lot harder.
If you could change anything at Geneva, what would it be?
No, there isn't anything I would change.