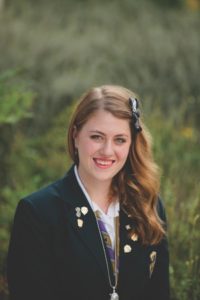 What is the most influential book you have read besides the Bible? Why?
The Shack. It opened my eyes to think about God in ways I had never thought of! Which made me feel closer to Him.\
What is your favorite or funniest moment at Geneva?
In Logic School, I kicked my shoe off and it landed on the roof of one of the buildings and there was no way I could get it down. So I went to class with one shoe. Then halfway through the class. Mr. DeSario walks in gave me my shoe and walked out. He definitely was not happy with me!
What will you miss most when you leave Geneva?
I will miss all the amazing friends I have made here and the way this place felt like a home to me for so long.
Who has influenced you most while at Geneva, How?
Mrs. Greenlees and Mrs. O'Brien both have been so amazing, giving me advice about becoming the best teacher I can be!
What does being a Geneva student mean to you?
It gives me a sense of responsibility to represent my school well and a feeling of pride whenever adults tell me I have a firm handshake or good eye contact. Geneva has been teaching me those things from the very beginning!
How would you encourage a Geneva kindergartner?
I would tell a kindergartner that there is going to be hard work, but also great friends and incredible memories.
If you could change anything at Geneva, what would it be?
I wish the three schools (Grammar, Logic and Rhetoric) could spend some more time together so it feels like one student body instead of three separate.