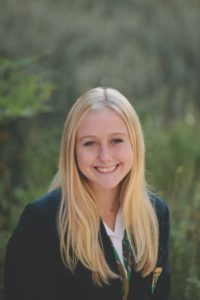 What is the most influential book you have read besides the Bible? Why?
All the books we read in worldview junior year were amazing but the book that had the most impact on me was probably Silence. It really challenged me to think about my faith and what decision I would have made if put in that situation. I am truly blessed to be at a school where I can openly discuss my faith.
What is your favorite or funniest moment at Geneva?
By far the funniest moment was on our junior trip when we made friends with the Italians 3 floors below us, using our balconies as a way of communication. It was also one of the scariest moments of my life as well because Mr. Russell walked into the street and stared right at us.
What will you miss most when you leave Geneva?
One thing Geneva is known for is the sense of community it provides the students and families. I am truly going to miss the feeling of constantly being surrounded by classmates and teachers who love me and are rooting for me no matter what.
Who has influenced you most while at Geneva, How?
One of the most influential people in my life is Mrs. Becky Ryden. Ever since I had her as my seventh grade English teacher, she has constantly poured into me. I view her as my friend and mentor and I know that this friendship will continue on once I leave this place. I am so grateful for everything she has done for me.
What does being a Geneva student mean to you?
As a Geneva student, I get the rare opportunity to dip my toes in the water wherever I would like. Not many people are blessed with the opportunity to be in so many extracurricular activities. This is one thing that makes Geneva the special place it is.
How would you encourage a Geneva kindergartner?
I would tell him to not view anything as too great of a challenge. Geneva prepares you for everything it throws your way. Whether it be senior thesis or the state track meet, you have coaches and teachers making sure you are prepared and able.
If you could change anything at Geneva, what would it be?
If I could change anything what would it be: I would so love a track! While the Boerne boys are nice eye candy, it would be awesome to practice at our own school!