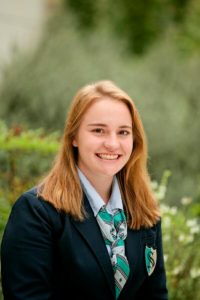 What is the most influential book you have read besides the Bible? Why?
I can think of plenty of books that have influenced me. One series in particular, though, has proven to be a very welcome slap in the face whenever I forget how amazing life is. I had only started to read some childhood classics a couple of years ago when I came across Anne of Green Gables. I finished the first book very quickly and fell in love with the way the author describes even the most ordinary of things as being gifts from heaven. It truly changed my outlook on life.
What is your favorite or funniest moment at Geneva?
There are a lot of funny moments that I have experienced at Geneva, but the first one that comes to mind is the time when my friend fell into one of the tree holes on the Rhetoric boardwalk. She seemed to fall in slow motion, and being the great friend I was, I proceeded to laugh uncontrollably at her as she struggled to get up. I was laughing so hard, I accidentally walked into the lockers and fell, too.
What will you miss most when you leave Geneva?
I will miss the welcoming attitudes of all the teachers. Each one treats you as an equal, and I am sad to say that I will be leaving many friends behind when I go off to college.
Who has influenced you most while at Geneva, How?
Mr. Southwick has definitely influenced the way I approach learning. Mostly because of him, I have developed a thirst for knowledge.
What does being a Geneva student mean to you?
Geneva students look to the past for knowledge and truth so as to positively affect humanity's present condition, ultimately looking toward the future with the aim of evangelization.
How would you encourage a Geneva kindergartner?
My encouragement for any kindergartner would be to enjoy the time you have now as kids without fear of the future. However, keep in mind that the good habits you establish now can set yourself up for greatness down the road. If I can do it, anybody can.
If you could change anything at Geneva, what would it be?
For practicality's sake, I would upgrade the standard tissue boxes to something other than the sandpaper currently offered. Also, hot water in the bathrooms during the winter would be amazing (not to mention it could improve public hygiene during flu season).