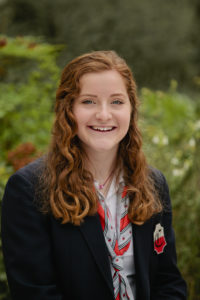 What was the most influential book you read besides the Bible and why?
The Harry Potter series influenced my outlook on the world. It is a fantastic example of the battle between good and evil, but it also taught me what to value in life like friendships, earning the things I work for and what to stand for. I think it helped me mature into the person that I am because I began reading it in seventh grade. Besides the fact that it is an excellent and compelling book series, it tells a beautiful story of mystery and looking for the truth. It is a relatable series about the teenage years. It developed my perspective that everyone comes from something different, but if we all unite, we can be something magical.
What is your funniest or favorite memory at Geneva?
One of my favorite memories was in Grammar School. Grant Williams, Nathan Zuniga, Mary Claire Stoelzing, Karen Comegys and I would play this game at recess where we would pull our sweatshirts over our knees and hop around the playground. We had so much fun doing that.
What will you miss most when you leave Geneva?
I will probably miss the teacher-student relationships the most. The teachers here really put in effort to get to know you and help you so that you can succeed. It has made all the difference in my experience at Geneva.
Who has influenced you most while at Geneva? How?
Mrs. Davis, my freshman year geometry teacher has influenced me the most. Even though she was only my teacher for my first year of high school, she was still a part of the years after because she established a Bible study every Tuesday morning. We would talk about anything I was going through, good or bad, and she always pointed me to Jesus and His word. That experience has helped me to focus on the things that are really important as I grow in my faith.
What does being a Geneva student mean to you?
Being a Geneva student means hard work. It's not easy, but it is worth all they teach us. Because you not only get an education that helps you develop specific skills for the rest of life, but it also comes with the teaching and mentoring of the gospel. Being a Geneva student doesn't mean being a rich, bratty, white kid, but it does mean working for the goal I have set for myself, and being content that God put me here for this stage of my life so that I can influence the people around me.
How would you encourage a Geneva kindergartner to persevere in school?
I would say have fun. Enjoy all the great experiences that you get to have. Pray through the good and the bad. Focus on the good in every situation; it changes your perspective. It doesn't matter what anyone thinks, if you think that it is important and worth the time, DO IT. Make an effort to treat everyone like the beautiful creation God made them to be. Never doubt who you are because of someone else's opinion. Don't ever lose your creative and imaginative mind; it is important in life to keep a little sense of wonder. And finally, as Joe said in The Princess Diaries, "No one can make you feel inferior without your consent."
If you could change anything at Geneva, what would it be?
I would change people's perspective that good grades are the highest priority. Doing well is not about a number. Learn the material and put in your best effort, not to get the perfect score, but to learn something. Give everything your best effort and do the work and then let the Lord lead you to the next step.