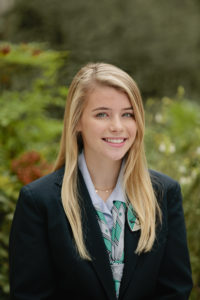 What is the most influential book you have read besides the Bible? Why?
The most influential book was The Help because it was a real tear-jerker.
What is your favorite or funniest moment at Geneva?
The funniest moment was when I witnessed Ana gray pushing Callen down the stairs.
What will you miss most when you leave Geneva?
I will most miss my friends.
Who has influenced you most while at Geneva? How? 
Mrs. Georgelos has influenced me most because I have known her since I was 7 and she is more than just a teacher to me. I have gotten to know her on a personal level over the past 10 years.
What does being a Geneva student mean to you? 
Being a Geneva student means going above and beyond what is expected of you.
How would you encourage a Geneva kindergartner to persevere in school?
I would encourage a kindergartner to enjoy every second because it flies by and to make the most of your time here.
If you could change anything at Geneva, what would it be?
I would add more fun electives.