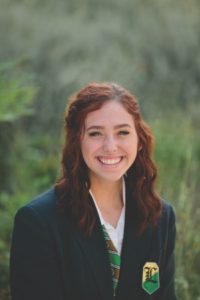 What is the most influential book you have read besides the Bible? Why?
The most influential book I have read is Silence. Sebastian Rodriguez shows a whole new level of dedication to the Faith. His persistence to share the Word with the Christians in Japan inspired me. If he (and many other people in the book) is willing to give up his life for Christ, then why should I fear sharing when no one is persecuting me?
What is your favorite or funniest moment at Geneva?
My favorite moment at Geneva was when we started Hoops for Heartland. So many people came to that game in order to support and donate to Heartland Children's Home.
What will you miss most when you leave Geneva?
I will miss how close I am with all my teachers.
Who is influenced you most while at Geneva? How?
Mrs. Evans has influenced me the most because she's been my teacher every year that I've been here. I have never seen her lose faith or alter her personality. She has such an amazing heart for everyone and does everything for the glory of God.
What does being a Geneva student mean to you?
Being a Geneva student means that you don't shy away when things get tough, you work hard in everything you do and that you do everything for the glory of God
How would you encourage a Geneva kindergartner?
I would tell them that going to Geneva is definitely not easy and it's not supposed to be. But, the experiences you gain you can't get anywhere else. Your relationships with your teachers and classmates are extraordinary.
If you could change anything at Geneva, what would it be?
I would add more students. While I love having such a close relationship with my teachers, adding more students could help rumors spreading through the whole school decrease.