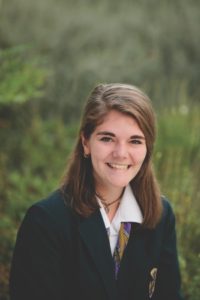 What is the most influential book you have read besides the Bible? Why?
The most influential book I've ever read is probably Silence. I know it's kind of lame because we read it at school but it's honestly one of the most life-changing books I've ever read. It really opened my eyes about how devoted some people are to our faith. That level of dedication is what I strive to attain.
What is your favorite or funniest moment at Geneva?
My favorite moment at Geneva was AIM in fifth grade. My fifth grade AIM Buddy was Linsey Peterson and I remember being so close to her and really looking up to her. I even wrote a letter to her while she was in college the next year and I remember getting SO EXCITED that she had responded! As a fifth grader that really got me street cred because I had a friend in college! It really shows how much we can influence the younger students.
What will you miss most when you leave Geneva?
Once I leave Geneva I'm going to miss the home I'm leaving behind. I've been going to this school for 13 years now and I'm expected to leave one day in the spring. I will never return to this school as a student again, which is really weird to think about. Altogether though I think I'm going to miss the bond with not only the teachers, but with everyone on campus-no matter how old or young they are. It's easy to form relationships here.
Who has influenced you most while at Geneva, How?
I would say the person who's influenced me most while I've been at this school is probably Mrs. Figari. She was my second grade teacher and she really helped form who I am today. While I was in second grade, my uncle was paralyzed in a hurricane accident. Mrs Figari immediately started doing whatever she could to help my family, whether it be simple prayers or a performance in the classroom created just for him. Since then, she's continued to check up on me, asking how he is and how I am. She also helped me step out and be more confident as I was involved in many of her mini-Broadway shows.
What does being a Geneva student mean to you?
Being a Geneva student means pushing your very hardest for excellence; it means showing kindness to everyone around you even when it's not easy; it means forming a unforgettable community with teachers and peers; it means doing everything with God and others as priority; it means leading in ways contrary to what you'd think. Being a Geneva student means being part of a family.
How would you encourage a Geneva kindergartner?
I would encourage a kindergartner to keep going through their journey at this school with the same mentality they have right now: full of excitement and dedication. It's easy to get tired of the workload and get anxious over big projects and speeches, but with these things come a great reward in yourself. Keep pushing yourself to do the best you can and when you get there, push a little harder.
If you could change anything at Geneva, what would it be?
If I could change anything about Geneva, it wouldn't be very much. Geneva has the whole dynamic down-the relationship with the teachers and the constant reminder to strive for excellence are irreplaceable. However if I had to choose something it would be to offer more United States history related classes in high school. I understand it's a classical school so that may not be in the curriculum, but I would like to know more of our country's history alongside Europe's. It's pretty technical but I think that's all I would change.