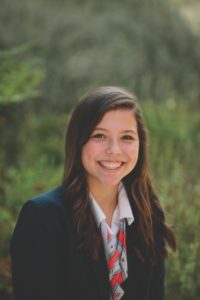 What is the most influential book you have read besides the Bible? Why?
The most influential book that I have read for me would have to be Heaven is for Real by Todd Burpo. I read this book for the first time when I was about 11 and proceeded to read it three more times because it fascinated me so much. I loved how the book was about a pastor who was stumped when his faith was "tested" by his son's visit to heaven. It showed me that I need to continually challenge my faith and not get comfortable with just knowing the facts.
What is your favorite or funniest moment at Geneva? 
My favorite part of Geneva is the community life that it has to offer. I was homeschooled starting second grade all the way through my freshman year. I had one teacher and just my sister to talk to through all of those years. The moment I walked back into the Geneva campus after eight years away, I felt totally at home because the student body and the teachers were always so helpful in both my studies and my social life.
What will you miss most when you leave Geneva? 
As I begin to look at the close of my Geneva years I know there are many thing that I will miss but the one that stands out the most is going to be the one on one relationships I have with all of my teachers. This is truly a unique attribute of Geneva which allows the teachers to not only teach the students in the classroom but also to allow them to become the students' mentors and advisers outside of the classrooms.
Who has influenced you the most at Geneva? How?
Mrs Greenlees has been the most influential! She is an amazing math teacher who always keeps the students on their toes. I always love how she starts each and EVERY class with a story. She personally picks each story for the day. Each story she picks has an underlying challenge. Through her stories, her leadership and mentor ship she has continued to challenge me in everything I set my mind to.
What does being a Geneva student mean to you? 
Being a Geneva student to me means being a well-rounded motivated student who is determined, head strong and classically equipped for college. When I look around my class I see people who are not only football players but also focused students and band players or swimmers, track runners and excellent in their studies. The opportunities that Geneva has grows well rounded, focused students who are not only smart and well equipped for college but, also in most cases, fantastic athletes.
How would you encourage a Geneva kindergartner?
Surround yourself with crazy friends! Put people in your life that make you laugh all the time, who are always there for you and who you get mistaken for twins. There really is nothing better than being surrounded by amazing friends.
If you could change one thing about Geneva what would it be?
I would change the houses to be based on the grade levels and not across the grades. I think it would create more opportunities for the classes to bond.