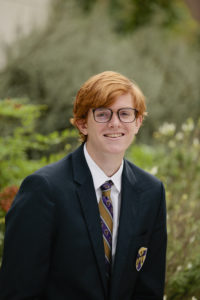 What was the most influential book you read besides the Bible and why?
Silence was the most influential book because it made me consider what being a true Christian really is. It also brought to light the true struggles of others. Seeing that made my struggles seem small.
What is your funniest or favorite memory at Geneva?
My favorite moment at Geneva was when Thomas ripped his pants at prom.
What will you miss most when you leave Geneva?
I will miss the community the most.
Who has influenced you most while at Geneva? How?
Mr. Shelton influenced me the most by showing us how to be a Christ follower while still having fun. He also holds us accountable. While annoying at times, in the long run this is very good for us.
What does being a Geneva student mean to you?
Being a Geneva student means being able to do many things to the best of your ability.
How would you encourage a Geneva kindergartner to persevere in school?
I would say to just try your best and you will do great.
If you could change anything at Geneva, what would it be?
I would change the start time to make it later