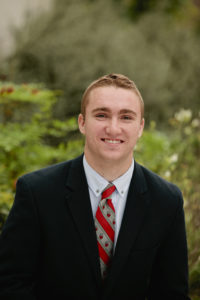 What is the most influential book you have read besides the Bible? Why?
The one book that stands out from all the rest that I've read is A Wrinkle in Time. It is one of the few books, which while not in-your-face about its Christian message, spreads the word of God in a meaningful and captivating way. I have not and will not ever see the movie though because I am certain that it would ruin the entire experience for me.
What is your favorite or funniest moment at Geneva?
When I was a freshman, Chaucer was having a meeting to plan for something and the group that I was a part of had to get up in front of the house to explain another something. We were all having a good time so I, being the hilarious jokester that I was, took the mic. First and put it right up to my face with my hand covering it and started talking gibberish, again because I thought I was hilarious. Surprisingly, a couple of upperclassmen didn't think it was as funny so they sarcastically (or not, I can't be sure) said it was super funny. Long story short, it got kind of awkward after that and I realized, "Oh, this is the big leagues. My shenanigans will no longer pass here." That was actually neither fun for me nor a good memory, but I can't remember anything else so I guess I'll deal with it.
What will you miss most when you leave Geneva?
I have lived all over the country but no community has embraced me or done more for me than Geneva's. I will especially miss the friends that I've made and the relationships I've been a part of, but at the end of the day, l know that I will also be able to look back on my time here and use my experiences to help build future friendships, future relationships, and a good life.
Who has influenced you most while at Geneva? How?
Mr. Shelton. While I've had many teachers who have influenced me in some way or another, the one constant throughout my tenure at Geneva has been the Bald Eagle himself. He always has a smile on his face and something nice and compelling to say, and that kind of attitude is really contagious.
What does being a Geneva student mean to you?
It means working harder to stand out, learning what's worth fighting for and how to do it, and most importantly knowing how to blame someone else for your work not getting done. Ha!
How would you encourage a Geneva kindergartner to persevere in school?
Have fun now. I look back to when I was a wee lad, and I notice that I was always trying to act older than I was, and it sometimes made school harder. Take time to appreciate the good things and the rest will come naturally. There's always less time than you think, and it goes by faster when you don't make it count. Also, don't ever be afraid to use the excuse: "I'm a kid. That's what I do."
If you could change anything at Geneva, what would it be?
I want to preface my answer by saying I am not a teacher's pet—I have nothing to gain from lying about this. That said, I honestly don't think I need to change anything about Geneva. The founders did a great job of setting up a foundation and each person that comes here brings their own flair that betters the community.