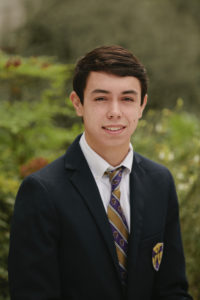 What is the most influential book you have read besides the Bible? Why?
When I was a lot younger, I read a book called Radical by David Platt. It was kind of the first Christian book I read. Only recently as I have briefly looked back, have I realized what an impact it has had on me. It has given me biblical perspective and purpose in my life.
What is your favorite or funniest moment at Geneva?
The bus rides to/from sports are some of my favorite times.
What will you miss most when you leave Geneva?
The longer I stay here, the more I realize that the people here are really as special as everyone says they are. Faculty and students included, I will be extremely lucky if I ever am a part of another group like Geneva.
Who has influenced you most at Geneva? How?
Luis Arizpe has taught me to play the guitar since sixth grade, but he has done so much more than that. He has unknowingly spoken wisdom to his me in his class on a daily basis, he has sincerely believed in my ability, and he has provided support and council without hesitation.
What does being a Geneva student mean to you?
Being a Geneva student means that I am given an education that prepares me to be an effective student and a committed disciple.
How would you encourage a Geneva kindergartner to persevere in school?
I'd tell them that the things that didn't make sense in the moment really do have a purpose.
If you could change anything about Geneva what would it be?
I would add in an athletic period.