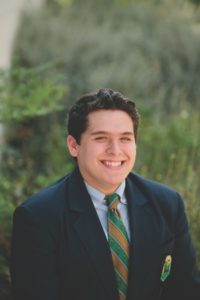 What is the most influential book you have read besides the Bible? Why?
Silence really gave me insight into the oppression that the missionaries went through while ministering in Japan. The way Shusaku Endo writes is so intriguing that it pulls you in and makes you realize the little details that symbolize great things.
What is your favorite or funniest moment at Geneva?
Competing in the Mr. Christmas pageant!
What will you miss most when you leave Geneva?
The amazing community and the great teachers.
Who has influenced you most while at Geneva, How?
Mrs. Greenlees has influenced me the most. She, no matter what, was always right there to help when I needed it.
I learned to work as hard as possible because of her.
What does being a Geneva student mean to you?
It means that I have the opportunity to do so many things that I couldn't normally do at a public school. It's a special thing that you can't get anywhere else.
How would you encourage a Geneva kindergartner?
I would tell a kindergartner that later on in life, you're going to be so grateful that you persevered through all of it. You're going to be so prepared for life.
If you could change anything at Geneva, what would it be?
Nothing!