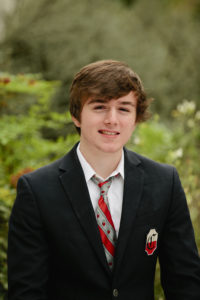 What is the most influential book you have read besides the Bible? Why?
The most influential book is probably the Magic Tree House series that I read throughout Grammar School because it made me a more creative and adventurous person.
What is your favorite or funniest moment at Geneva?
It is probably when our entire class was singing Smash Mouth in Mr. Johnson's class and he gave everyone zeros for participation for interrupting class.
What will you miss most when you leave Geneva?
I will miss all the people I won't see ever again.
Who has influenced you most while at Geneva? How? 
Mr. Shelton and his Worldview Class have influenced me most because it grew my Christian faith.
What does being a Geneva student mean to you? 
It means that I am a disciple of Christ.
How would you encourage a Geneva kindergartner to persevere in school?
Be open to learning and don't hate your life.
If you could change anything at Geneva, what would it be?
I would want there to be no school on Friday.