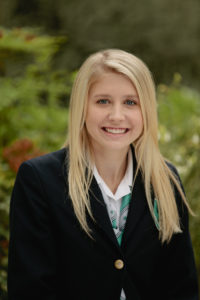 What is the most influential book you have read besides the Bible? Why?
One of the most influential books I've read is called The One Memory of Flora Banks. It is about a girl who loses her memory every few hours. This girl takes a trip by herself to Europe to find a guy that she remembers from her one memory. This book is about courage, compassion and what it really means to respect others who are different from you.
What is your favorite or funniest moment at Geneva?
My funniest moment at Geneva was in 6th grade. Mrs. Wheeler told Kathryn Sladky and me to take out the recycling box full of papers to the recycling bin. When we got to the recycling bin we threw the whole box in and soon realized that we were supposed to return the box to Mrs. Wheeler's room. So we decided to jump into the recycling bin and grab the box. Once inside the bin we realized we could not climb back out. We had to wave down a Geneva mom to help us get out.
What will you miss most when you leave Geneva?
I will miss seeing my friends daily at school and also being able to participate in field day.
Who has influenced you most while at Geneva? How? 
Mr. Naiser was my 10th grade chemistry teacher. He was very personable and was always encouraging whether it was in academics or athletics.
What does being a Geneva student mean to you? 
Being a Geneva student means that you will be challenged and encouraged by your teachers.
How would you encourage a Geneva kindergartner to persevere in school?
I would encourage a Geneva kindergartner to always try to do their best, but to not let schoolwork get them down. It is ok to make mistakes because your teachers just want you to learn from them. Your teachers want the best for you, so if you're struggling they will be there for you.
If you could change anything at Geneva, what would it be?
If I could change anything at Geneva it would be that seniors would automatically have first period off.