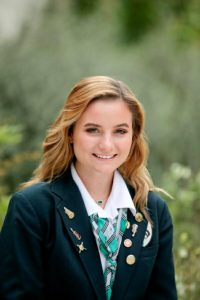 What is the most influential book you have read besides the Bible? Why?
Mere Christianity has been the most influential book I have read. The book was helpful in understanding the depth of what it means to be a Christian. It also expanded my point of view on how the world works and how to face the problems of everyday life from a Christian standpoint.
What is your favorite or funniest moment at Geneva?
My funniest memory is during Spirit Week of my junior year when a boy in my grade found a hoop earring on the ground from another girls' costume. He decided, while in Mr. Johnson's literature class, to sterilize a safety pin with hand sanitizer and then pierce his ear so he could wear the hoop earring.
What will you miss most when you leave Geneva?
I will miss the many friendships and the relationships I have made over the years with so many of the teachers. Because Geneva is small, you get to know everyone very well. It is different from any high school because you feel accepted, supported and loved. The Christian faith is more prominent in your everyday life.
Who has influenced you most while at Geneva? How?
Mr. Southwick has been the most influential person to me at Geneva. He not only taught me academically, but he also displayed his belief in me as a student—to become and do great things. He incorporated God into every aspect of his life and taught me to live the same way.
What does being a Geneva student mean to you?
Being a Geneva student means learning to love God and live a life in honor of Him and to do what is right. Also, it means to not only learn the information put in front of us, but to see it in a deeper point of view and to learn how to use it in the future. Geneva teaches value, respect and gratitude through everything they teach.
How would you encourage a Geneva kindergartner to persevere in school?
I would encourage Geneva kindergartners to persevere through the challenges of school and to trust their ability to do great things and to be confident in themselves.
If you could change anything at Geneva, what would it be?
If I could change anything about Geneva, it would be to have a place where high schoolers can go during their free time to either eat lunch, do homework, sit with friends or whatever they want to do. It could be a place with couches, vending machines, a ping pong table or other cool and fun things to do while not in class. It could be a safe and fun environment so students can de-stress and relax.