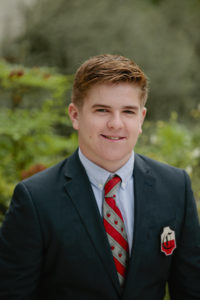 What was the most influential book you read besides the Bible and why?
The most influential book I read is Do Hard Things by Brett and Alex Harris. It's all about rebelling against the low expectations society sets on teenagers.
What is your funniest or favorite memory at Geneva?
My funniest memory was during a freshman year pep rally. I did a cheerleader performance with Ben and Matthew and I nailed the high kick. The whole audience applauded. Everybody loved me.
What will you miss most when you leave Geneva?
I will miss Mr. Shelton's assembly addresses.
Who has influenced you most while at Geneva? How?
Mrs. Ryden has been one of the many great teachers that I have had at Geneva. I truly believe that she genuinely cares about her students' lives and is mindful of the impact that she has on all of us. As a house dean, teacher, and magazine administrator, Mrs. Ryden has been instrumental in creating a positive social and educational environment in her classroom and throughout the campus.
What does being a Geneva student mean to you?
A Geneva education prepares you to influence the modern world in a positive manner. Being a Geneva student is being someone who can fulfill that task.
How would you encourage a Geneva kindergartner to persevere in school?
School's not hard.
If you could change anything at Geneva, what would it be?
When I went to school in Amsterdam, they got off early on Wednesdays.