What is the most influential book you have read besides the Bible? Why?
Silence was the most influential book because it put what martyrdom is really about in perspective and that my faith in America has never been tested to this extent.
What is your favorite or funniest moment at Geneva?
The funniest moment for me was when Mr. Harrild sang "Let It Go" for the Faculty Lip Sync Battle.
What will you miss most when you leave Geneva?
I will miss the community of students and teachers who have surrounded me from kindergarten to graduation.
Who has influenced you most while at Geneva? How?
Ms. Jacobson has influenced me the most. She was my kindergarten teacher and she has been at Geneva ever since.
What does being a Geneva student mean to you?
Being a Geneva student means a lot of hard work and dedication.
How would you encourage a Geneva kindergartner to persevere in school?
I would tell the kindergartners that as you continue on your journey at Geneva you will work hard to earn and appreciate the freedoms you gain later.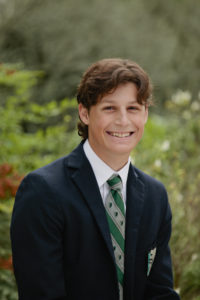 If you could change anything at Geneva, what would it be?
I would add the ability to choose to go home during scheduled study halls.