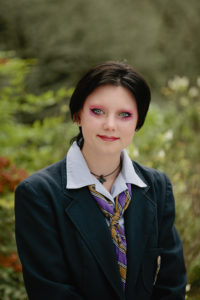 What was the most influential book you read besides the Bible and why?
My most influential books are the Harry Potter series. These books have stuck with me from childhood. They showed me what a creative mind can make.
What is your funniest or favorite memory at Geneva?
I think one of my favorite moments is when Haley tackled me to the ground in front of the P.E coaches. I remember the coaches staring at her because they weren't quite sure how to handle the situation.
What will you miss most when you leave Geneva?
I will miss hanging out with my friends.
Who has influenced you most while at Geneva? How?
I think Mr. Tye has influenced me quite a bit. He encouraged me to be different when no one else would.
What does being a Geneva student mean to you?
To me, being a Geneva student means being able to think for yourself and create your own opinions.
How would you encourage a Geneva kindergartner to persevere in school?
I would encourage them to be themselves
If you could change anything at Geneva, what would it be?
I would add more class options. I would put in classes like home economics so we could learn valuable lessons about living on our own.