What is the most influential book you have read besides the Bible? Why?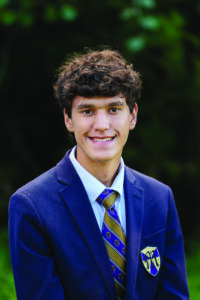 The most influential book I've read was Animal Farm by George Orwell. This book taught me about history by using animals and demonstrating how piece by piece little decisions become big decisions.
What is your favorite or funniest moment at Geneva?
My favorite moments were competing for Geneva in cross country, basketball, track, and tennis.
What will you miss most when you leave Geneva?
I will miss the small classes the most when I leave Geneva.
Who has influenced you most while at Geneva? How?
Mrs. Davis has influenced me the most because of her kindness and the way she made math fun for everyone.
What does being a Geneva student mean to you?
Being a Geneva student means to know the difference between a Biblical worldview and a secular worldview.
How would you encourage a Geneva kindergartener to persevere in school?
I would encourage them by telling them some of the work is hard but the reward of a good education is worth it.
What about Geneva do you hope never changes?
I hope that class sizes never change so that the teachers can continue to give individual attention.