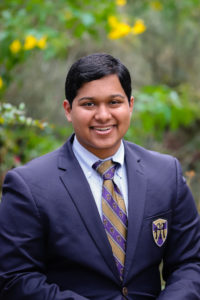 What is the most influential book you have read besides the Bible? Why?
Silence by Shusaku Endo, mainly because it taught me that true devotion to Christ can never completely be forced away, despite oppression. No matter what happens, no one can change your heart. I also enjoyed reading the play Doctor Faustus in Junior year because it explored the concept of predestination, which fascinates me to this day.
What is your favorite or funniest moment at Geneva?
Splitting my pants at school before the regional spelling bee in sixth grade. It was slightly embarrassing, but also a funny distraction from the stress of competition ahead.
What will you miss most when you leave Geneva?
I will miss the outdoor campus and the close-knit community of teachers and students who deeply care for one another.
Who has influenced you most while at Geneva, How?
Mr. Grover, because he has a true passion for what he teaches that is infectious. He transformed historical essays and facts into relevant and interesting lessons that changed the way I saw our government. He motivated me to become a more aware and involved political citizen.
What does being a Geneva student mean to you?
Being a Geneva student means to be supported in every way by people who genuinely want to see you succeed. Hearing about toxic competition at other schools, I am always grateful for the Geneva community. It challenged me to be my best in academics and extracurriculars but held a focus on Christ and Christian morals of compassion, love, and integrity above everything else.
How would you encourage a Geneva kindergartner to persevere?
Explore your interests and always try your best, but don't take anything too seriously. The Lord will put you on a journey that allows you to grow at your own pace.
What about Geneva do you hope never changes?
Singing at Monday morning assemblies because they were a wonderful way to begin the week. I truly cherished that time of fellowship.