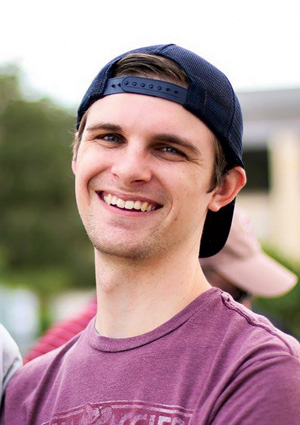 Please give a current update on yourself (college/graduation year, major, work/career, family, other interests, service or hobbies).
Howdy! My name is Jack Clifford, and I am second year graduate student in the Department of Visualization at Texas A&M University. I currently plan on graduating in August 2019, and my focus is primarily on creating 3D environments (which includes modeling, surfacing, and lighting various assets in a scene) and set dressing (placing/arranging the assets in a way that looks visually interesting). Consequently, I will also be doing research and a thesis on a topic having to do with these interests (I am still trying to nail down the specifics). I am also involved with ACM SIGGRAPH (an organization that's all about computer graphics and interactive techniques), and I even got to attend and volunteer at their convention in Vancouver this past summer. Finally, I'm also involved with a home group at my church (Fellowship Church in College Station), which is similar to Bible study, but has a large focus on community and service.
In what ways did your Geneva education/training prepare you for the work you are doing now?
I would say that Geneva prepared me for my current work in a couple of ways. First, it ingrained a sense of studiousness in my head, allowing myself to work hard on the tasks given to me. Moreover, learning to work hard encouraged me to strive to my best in my work. Finally, doing a thesis at Geneva definitely prepared me and made me feel less nervous for my master's thesis I will be doing in the near future.
Please describe the most significant value you learned from Geneva.
The most significant value I learned at Geneva the thirst to learn new things, which is incredibly important in the industry I want to go into (animation). Since there are always new software and tools being developed as well as more efficient methods of creating assets being discovered, it is vital for me to stay on my toes and be prepared to learn something new.
How would you encourage a Geneva Rhetoric School student to make the most of their Geneva years?
Do your best to find what you're interested in, and to also be flexible. It can be a good practice to start pursuing your interests before going to college, and will ultimately give you a strong toolset going into higher education or the industry. Yet, at the same time, I think it's important to be flexible too. At one point, I solely wanted to pursue graphic design, but now I want to be a 3D environment artist. If you haven't completely figured out what you want to do yet, that's ok! God has a plan for you, and He will reveal it to you at some point!
Describe Geneva in one word. Explain.
I would describe Geneva as a "foundation" in the sense that it's the basis for our futures. Everything I learned at Geneva prepared me for college and beyond, and even helped me find what I was interested in.
Please share one or two of your Geneva extracurricular activities and then contrast that with one or two of your current non-work activities.
One of my Geneva extracurricular activities was being a part of the cross country team, which was incredibly memorable to me since being on that team had a strong sense of community and passion. Similarly, being involved in a home group at my church also has the presence of community and passion, despite being completely different from being on the cross country team. In addition, the sense of passion in both of these activities slightly differs, with cross country being more about running and home group being more about passion for God.
What are your future career goals and how do you feel prepared for them? How has Geneva been a thread that has connected you to your work now and what you see yourself doing in the future?
My future career goal is to be a 3D environment artist in the animation (or possibly gaming) industry. I feel like I have become much more prepared for them as I have progressed and grown throughout college and graduate school. Moreover, Geneva helped jumpstart my interest in this since I was involved with the school newspaper and learned how to use Photoshop and do graphic design through that extracurricular activity. In turn, these skills kick started me into what I am interested in today.
How are you impacted by being in graduate school? What is something you have learned/are learning about yourself and God's world?
Graduate school has impacted me into learning a lot more of the technical aspects of 3D animation such as coding and node networks and applying them to the artistic skills I gained during my undergraduate studies. In other words, it has helped me blend both the artistic and technical sides of my brain together. In addition, I have become much more involved with my church during my time in graduate school, and it has been a huge blessing on my life to have a community of other Christian students supporting each other as I finish up school. It has also really allowed me to see that I need to have faith that God has a plan for me, and has put me where I am currently for a reason.
Jack writes: This animated short entitled "Fruit Danube" was created during the Texas A&M Department of Visualization's Summer 2018 Industry Course with Pixar. At the beginning, we were given the prompt to create a 30 second short featuring two robots (with no legs) in a kitchen environment. During the course, I worked alongside my group of five teammates as well as industry professionals who came every other week to create the short you see today. My primary roles were modeling environment assets, set dressing, surfacing, and a bit of lighting. I hope you enjoy my team's end product!