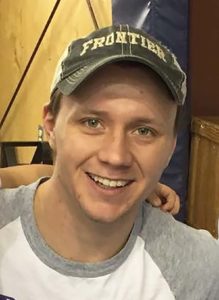 Please give a current update on yourself (college and graduation year, major, work or career, family, other interests, service or hobbies).
Since graduating from Texas A&M University with a Classics major in May 2018, I've gotten to join Young Life as an Area Director and put down some roots in a little west Texas town called Marfa. Out here, our team has the privilege of ministering to spiritually disinterested adolescents and families across the Big Bend region.
In what ways did your Geneva education/training prepare you for the work you are doing now?
Geneva taught me how to be a student and process the world around me. These have been necessary faculties in ministry as I have had to learn a new language and consider new worldviews since moving to Marfa.
Please describe the most significant value you learned from Geneva.
Geneva gave me the tools to engage reality; not to shy away from it. And it was probably at Geneva that my heart began to be softened toward others. To seek truth, we were always asked to take on the posture of a true student. For me, that meant loosening the grip on my own opinions and prejudices and learning to consider the worldviews of others. That model of student-hood greatly prepared me for life. It prepared me join into diverse communities. It prepared me to take a necessary leap from being sympathetic to being empathetic. I thank God that the Geneva faculty, the Board and our vision-casters who strive to uphold congruency between what we teach and Christ's love.
How would you encourage a Geneva Rhetoric School student to make the most of their Geneva years?
Relax. Enjoy these people around you.
Describe Geneva in one word. Explain.
Gift. Geneva is the greatest gift that a 16-year-old doesn't know that he has.
Please share one or two of your Geneva extracurricular activities and then contrast that with one or two of your current non-work activities.
HAHA. I "played" basketball and "ran" cross country. Out here in Marfa, I do get to shoot hoops pretty often with students. My dogs Pancho and Lefty probably wish I could still run three miles. But alas, they have to run alone.
What are your future career goals and how do you feel prepared for them? How has Geneva been a thread that has connected you to your work now and what you see yourself doing in the future?
For now, my career goal is to sit tight with Young Life in the Big Bend. It will take some time to build important bridges of trust and establish ministries in the surrounding towns of Fort Davis, Valentine, Alpine, Presidio and Ojinaga, Mexico. For this task, I feel prepared by God's word and by the wisdom coming from friends and family. Had I not learned to love God's word at Geneva, nor had I been challenged by wise men and women on the faculty (i.e. Luis Arizpe, Rob Shelton, Jill Daniels, Dirk Russell, Debbie Wheeler, Aaron Southwick, Susan Greenlees, Paul Johnson, Mimi Stricker, Jeff Crews and others), then I most certainly would not have ended up in this ministry. These folks engaged me, walked alongside me and loved me unconditionally while I was an unlovable teenager. So really, they trained me in how to do my current job. As far as the future goes, whether I am in ministry or not, I hope to continue emulating those role models that I had at Geneva, as we all ultimately strive to imitate Christ.