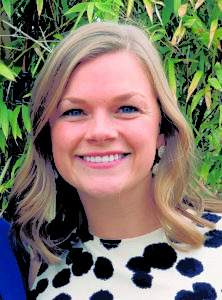 Jeanne Arthur Humphries, Geneva Class of 2011, is the highlighted alumnus for this quarter. Here are her responses to a standard set of questions which will be given to an alumnus to answer each quarter.
Please give a current update on yourself (college/graduation year, major, work/career, family, other interests, service or hobbies).
After graduating from Geneva in 2011, I graduated from Baylor University in 2015 with a Bachelor's in Communications and graduated from Vanderbilt University in 2017 with a Master's in Education. Since graduating from Vanderbilt, I've been working at Deloitte Consulting, focused on helping clients navigate the digital age by solving for human capital issues that accompany organization-wide transformations. My husband, Landry Humphries and I got married in April 2018 (after meeting at his sister's wedding, who was a good friend of mine from Baylor). Recently, Landry and I have moved to New York City to pursue different careers and have been surprised by the opportunity to join a church plant in Brooklyn, which has quickly become the highlight of our time in the city! In my spare time, I love to travel with Landry, read, cook with local produce from the farmers markets all over the city, be outside, and spend time with our church community.
In what ways did your Geneva education/training prepare you for the work you are doing now?
Geneva's encouragement of critical thinking and requirement of etiquette prepared me for the workplace in ways I couldn't have imagined. Oftentimes, I find myself in meetings where clients come with problem after problem requiring me to quickly examine the root of an issue and work professionally with my clients to find a solution that is feasible within their organization. It usually requires critical thinking and professional communication to get the job done.
Please describe the most significant value you learned from Geneva.
The significance of pursuing godliness over trying to be a cultural Christian. If you examine your faith and the faith of those around you, you quickly see the difference of those that are followers of the way of Jesus and those that are trying to live up to the "Christian expectation." Only one way is life giving!
How would you encourage a Geneva Rhetoric School student to make the most of their Geneva years?
Develop an interest and cultivate understanding with your classmates (even the ones that are different than you), take time to listen to your teachers, soak up time with your parents, be mindful of where your attention is going every day, ask questions when you don't understand, and be a friend to all. Seek out those who are humbly confident and kind to others and make friends with them quickly!
Describe Geneva in one word. Explain.
"Cocoon." One of the definitions of Cocoon is "a protective covering." Geneva gives you the opportunity to grow, be challenged, learn, fail, succeed, develop relationship, ask for forgiveness, and ask questions about faith and the world all in a protective, nurturing setting. Take advantage of it – this becomes more and more challenging outside of godly community. And after you leave Geneva, build a godly community around you to continue asking questions and encouraging one another.
Please share one or two of your Geneva extracurricular activities and then contrast that with one or two of your current non-work activities.
I played several sports (swimming, tennis, basketball) during my time at Geneva which has encouraged me to stay active into my adult life. I enjoyed long distance running for a few years and try to keep a very active lifestyle (preferably outside). 
What are your future career goals and how do you feel prepared for them?
With an interest in education and organizational effectiveness, I would love to eventually work in an educational administration role. I'm preparing myself now by learning as much as I can about the factors that impact organizational performance with my clients every day.
How are you impacted by your work now? What is something you have learned/are learning about yourself and God's world?
I think of work as a spectrum, with the idea that work should being fulfilling on one end of the spectrum and the reality of work being an obligation on the other end of the spectrum. I haven't found where I land on the spectrum yet, but regardless, I find that my work gives me an opportunity to be part of God's redemptive work in the world. I see my work as a way to reach lonely people trying to make sense of a broken world by creating trust and relationships, offering the hope of God to restore all things on earth.