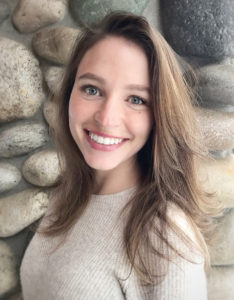 Ellie Harpole, Geneva Class of 2013, is the highlighted alumna for this quarter. Here are her responses to a standard set of questions which are given each quarter to an alumnus or alumna to answer.
Please give a current update on yourself (college/graduation year, major, grad school, work/career, family, other interests, service or hobbies).
I graduated from Texas A&M University with a B.S. in Agricultural Communications and Journalism in 2016. From there I continued my education at the University of Notre Dame, where I attended an accelerated graduate program and earned my M.S. in Management in 2018. I currently live in San Antonio and work for HEB Corporate in General Merchandise Procurement as a Business Development Assistant. My job has opened my eyes to all it takes to get products on shelf at HEB, which is far more than I ever imagined. I am highly involved at my church and in the partnerships my church has with our community—I co-chair a young adult leadership committee and serve on the LOVE Initiate committee supporting foster and adopt families. Time with friends and family are important to me and I enjoy bouncing between SA, Boerne, the ranch and Idaho.
In what ways did your Geneva education/training prepare you for the work you are doing now?
My time at Geneva is something I hold dear. I am proud to be a member of the Geneva Guild and to have been shaped by my experiences there. Of course, I received a good education, but the life training is what I value. While I was there, Geneva navigated a lot of uncharted territory (semper gumby), which naturally made me adaptable. Students, faculty and families all knew each other (and your dogs and grandparents) and I learned to develop genuine relationships. I was on sports teams (sometimes not by choice—freshman cross country—cough*), in fine arts and took AP classes. I got 10-minute mercy-ruled and won state titles. Those opportunities instilled in me hard work, collaboration, perseverance and humility.
Please describe the most significant value you learned from Geneva.
I carry the skills of adaptability, relatability, hard work, collaboration, perseverance and humility with me into the work I am doing now. My job is cross-functional and collaborative, so the ability to communicate and form strong relationships with people is essential. I am in a people, tech and market driven business, so adaptability and perseverance are essential to what I do. My time at Geneva built the foundation for my life and career skills.
How would you encourage a Geneva Rhetoric School student to make the most of their Geneva years?
I would encourage Geneva Rhetoric School students to recognize the mentorship they can find in their teachers and to take Dual-Credit English. I always valued the education I was receiving at Geneva and I enjoyed my teachers. One thing I was grateful to come away from Rhetoric School with, though, was a mentor. I realized that one of my teachers was valuable as a teacher, but her defined impact was the way in which she taught me as the person beyond just me the student. Geneva has the unique position to bring on brilliant faculty who can be, and are willing to be, great mentors. I also think the easiest of all Rhetoric School decisions is to take Dual-Credit English. The class flows seamlessly with what students are already doing, students are conditioned for it and it is not a big burden to their schedule. When they get to college, however, it will likely not flow seamlessly—they will no longer be conditioned after a comfortable summer break and it will feel like a burden to their schedule.
Describe Geneva in one word. Explain.
Nostalgic. When I think about Geneva, I think about the Geneva I experienced. My mom bought the flowers for campus and watered them. She was the room mom, coordinated the teacher luncheons and went on all the field trips. My dad mowed the grass and coached the sports teams or called the games. My brothers played all the sports and were the drama leads. I knew the guys on the football field by the way they stood. I played sports or kept the books so I could travel as part of the team, but still was able to ride horses; sometimes I brought my horse to school. I knew everyone, and their parent's car in the pickup line. Now, I see a Geneva sticker on a car and do not bother to speed up to see who it is; I know I will not know who they are. I hardly recognize the campus anymore. For someone as sentimental as I am, it is a little sad. You know what else it is? Incredible. It is incredible to think that the experiences I had are reaching so many more students now. It is amazing to think this growth is allowing all I knew of Geneva to be magnified, enhanced and refined to create opportunities even richer than I would have imagined while I was there. I am excited to see what God will do with the dreams of a few moms having coffee and the years of dedication, donations and effort from so many who have come alongside Geneva since those early days.
Please share one or two of your Geneva extracurricular activities and then contrast that with one or two of your current non-work activities.
I did a little of all the extracurricular activities at Geneva; I even managed to swing some varsity baseball credits (professional sunflower-seed shucker). The most memorable extracurriculars I was in at Geneva were cross country my freshman year and basketball my junior year. I also rode horses on my own time, which is the main activity I have participated in most of my life. Those stand out to me because of the leadership I was under, the time and effort I put in and the people I was around in those seasons. I do not participate in anything similar now, except a pick-up game here or there, but the activities I am in do harbor similar key traits. I am active in my young adult group, a co-chair on the young adult leadership team at church and serve as a committee member of LOVE Initiate, a ministry for foster and adopt families. In each of these activities I am under great leadership, I serve with a significant amount of effort and time, the people I am around are life-giving and my contributions are important to the success of our goals. Extracurriculars may not translate directly to something that you will use in the future, but they are powerful building blocks for sweet memories and important development.
What are your future career goals and how do you feel prepared for them?
Future career goals? Those range as aspirational as veterinarian to a mom to a taco and donut shack owner on a corner in Idaho. I have an "oak tree" of future career goals that could go as many different directions as branches. The one thing I am sure of is that I do feel prepared for them. Technically prepared? Not for every one of my aspirations—that could require many more years of school. Equipped to tackle the steps to get me there and to sustain the goal once I got there? Definitely. The foundation I received at Geneva, and the education and experiences I continue to pursue, afford me the ability to work hard, learn, endure, derive perspective, appreciate and enjoy. Those things give me confidence, and my trust in the direction and providence of God give me assurance that my future and my goals will find fulfillment.
How are you impacted by your work now? What is something you have learned/are learning about yourself and God's world?
I currently work in general merchandise procurement at HEB Corporate. My specific role is a Business Development Assistant in Kitchen Appliances, Water Filtration, Fans/ ACs, Heaters and J-Hook. Essentially, I work directly with the buyer to make the purchasing and management decisions for the products in those categories for the company. I have seen God at work in my professional life in countless ways. I am surrounded by co-workers who are dedicated to serving people and who exercise incredible humility as they open themselves to new ideas, desire to learn and challenge themselves. For me specifically, I get to use my natural relational, rational and creative gifts as I engage with people in the business and work in product development. I see God cultivating me and developing strengths within me as I am challenged to learn new areas of the business. The Lord has been gracious to put me on a team that supports my faith and growth.