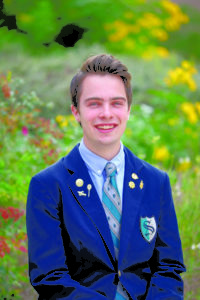 What is the most influential book you have read besides the bible? Why?
The most influential book I've read besides the Bible was Mere Christianity by C.S. Lewis. It's an extremely well written book that every Christian should read at some point in his life.
What is your favorite or funniest moment at Geneva?
It's hard to pinpoint one moment that has been the funniest at Geneva, but pretty much anything Mr. Gardner says that is unrelated to AP Physics is always hilarious, so theoretically, Mr. Gardner himself is my funniest moment.
What will you miss most when you leave Geneva?
When I leave Geneva, the things I'm going to miss the most will be the community, fellowship, and overall joy that I experience each day as a student here.
Who has influenced you the most while at Geneva? How?
Mrs. Greenlees has influenced me the most during my education at Geneva. She has a servant's heart, and is so helpful in every aspect of her classes. Her quick wit and sarcasm always brightened up a period of Pre-Calculus. Her love for God and others is remarkable, and she has shown me how to have joy even when life is difficult.
What does being a Geneva student mean to you?
For me, being a Geneva student can be described best in one way: being a servant, leader, and keeper of the culture. This simple motto that I was taught in Grammar School has stuck with me ever since, and has been something that I aspire toward as a Geneva student every day.
How would you encourage a Geneva kindergartner to persevere in school?
If I were encouraging a kindergartner about persevering in school, I would explain to them that trying their best in their education will always be beneficial in the long run, and that one of the ways that they can honor God is to develop the brain that He gave us.
What about Geneva do you hope never changes?
I hope that the close community of Geneva never changes. The love and kindness that families at this school show each other is incredible. I will never forget the friendships and memories I had here simply because of the community that we have.