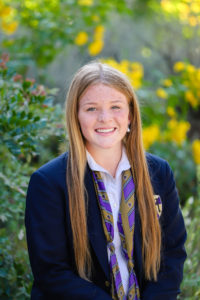 What is the most influential book you have read besides the Bible? Why?
Silence by Shūsaku Endō – This novel moved me toward a deeper appreciation for my freedom to openly share the gospel of Jesus Christ.
What is your favorite or funniest moment at Geneva?
It was during one of the 2018 soccer playoff games. During warm-up, I took a hard shot and it accidentally hit Sydney Dennis in the head and knocked her out. It was not funny at the time, but we often still laugh about it.
What will you miss most when you leave Geneva?
I will miss my friends and all the amazing teachers that have helped me find success, in and out of the classroom.
Who has influenced you most while at Geneva, How?
Mrs. Greenlees has always been a great role model and has been very supportive. She wants the best for her students, and I will miss her.
What does being a Geneva student mean to you?
Being a Geneva student is a blessing. I realize more now how fortunate I am to have had the opportunity to attend Geneva. Geneva School of Boerne is my family, my special friendships, and where I grew my faith.
How would you encourage a Geneva kindergartner to persevere?
Work hard and never stop loving Jesus. Listen and learn from your teachers. They care for you and want you to succeed.
What about Geneva do you hope never changes?
I hope worldview never changes. Mr. Shelton is an incredible teacher. Every book we read was life changing.