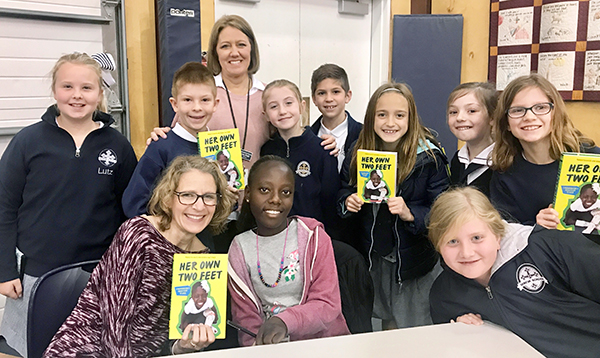 The Geneva Grammar School hosted authors Meredith Davis and Rebeka Uwitonze on campus recently to discuss the book they co-authored titled "Her Own Two Feet." This book tells Rebeka's amazing story from Rwanda and was introduced to the Grammar School students during Book Week in January when Davis first visited campus.
Davis and Uwitonze shared their book and then spent time with the students answering questions. After being born with curled and twisted feet, Rebeka, at the age of nine, was given a chance to travel from Rwanda to America to meet with doctors to see if her feet could be turned. This meant leaving her family, coming to a country where she did not know the language, and encountering countless hospital visits and surgeries. After 10 months, she returned to Rwanda able to walk.
"Rebeka is one of the bravest people I have ever met! Her courage, perseverance and joyful spirit have definitely impacted our students. For our students and teachers to be able to meet the person they had read about in this book was life-changing," Geneva librarian Lisa Patti said.