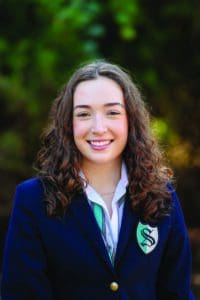 What is the most influential book you have read besides the Bible? Why?
We actually had to read Lord of the Flies while we were doing online school during Covid. That was a crazy experience reading about how isolation pretty much made those boys go crazy while we were isolated in quarantine.
What will you miss most when you leave Geneva?
I think I will miss the faculty the most. Teachers, coaches, and everyone in the admin care so deeply about every student and pour their hearts into each of us. I think that is a blessing unique to Geneva and I'll miss it.
Who has influenced you most while at Geneva? How?
I still cling to words of wisdom from Mr. Rob Shelton. He was Rhetoric Headmaster my freshman year, and I still think back to the messages he shared during assemblies. My favorite was the story of the "Rag Man."
What does being a Geneva student mean to you?
Being a Geneva student means working hard and playing harder.
How would you encourage a Geneva kindergartner to persevere in school?
Don't procrastinate. Keep a planner. Ask for help when you need it. Keep your childlike wonder.
What about Geneva do you hope never changes?
I hope Geneva can always have fun. All the special days, events, and games make all the hard work worth it. I hope Field Day, Quidditch, Induction Day and all the others stay fun, and we don't take ourselves too seriously.